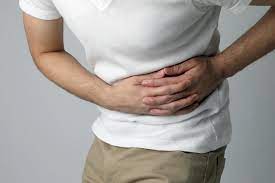 Everything You Need to Know About Kidney Stones
How common are kidney stones?
Each year, more than half a million people go to emergency rooms for kidney stone problems. It is estimated that one in ten people will have a kidney stone at some time in their lives.
The prevalence of kidney stones in the United States increased from 3.8% in the late 1970s to 8.8% in the late 2000s. The prevalence of kidney stones was 10% during 2013–2014. The risk of kidney stones is about 11% in men and 9% in women. Other diseases such as high blood pressure, diabetes, and obesity may increase the risk for kidney stones.
What causes kidney stones?
Kidney stones are caused by high levels of calcium, oxalate, and phosphorus in the urine. These minerals are normally found in urine and do not cause problems at low levels.
Possible causes include drinking too little water, exercise (too much or too little), obesity, weight loss surgery, or eating food with too much salt or sugar. Infections and family history might be important in some people. Eating too much fructose correlates with increasing risk of developing a kidney stone. Fructose can be found in table sugar and high fructose corn syrup.
Kidney stones are most likely to occur in people between the ages of 20 and 50.
Different factors can increase your risk of developing a stone. In the United States, white people are more likely to have kidney stones than Black people.
Sex also plays a role. More men than women develop kidney stones, according to the National Institute of Diabetes and Digestive and Kidney Diseases (NIDDK)Trusted Source.
A history of kidney stones can increase your risk. So does a family history of kidney stones.
Other risk factors include:
dehydration
obesity
a diet with high levels of protein, salt, or glucose
hyperparathyroid condition
gastric bypass surgery
inflammatory bowel diseases that increase calcium absorption
taking medications such as triamterene diuretics, antiseizure drugs, and calcium-based antacids
Type
There are four main types of stones:
Calcium oxalate: The most common type of kidney stone which is created when calcium combines with oxalate in the urine. Inadequate calcium and fluid intake, as well other conditions, may contribute to their formation.
Uric acid: This is another common type of kidney stone. Foods such as organ meats and shellfish have high concentrations of a natural chemical compound known as purines. High purine intake leads to a higher production of monosodium urate, which, under the right conditions, may form stones in the kidneys. The formation of these types of stones tends to run in families.
Struvite: These stones are less common and are caused by infections in the upper urinary tract.
Cystine: These stones are rare and tend to run in families.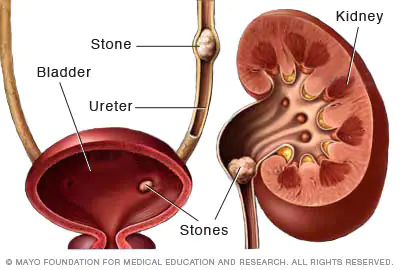 Treatment
Treatment for kidney stones varies, depending on the type of stone and the cause.
Small stones with minimal symptoms
Most small kidney stones won't require invasive treatment. You may be able to pass a small stone by:
Drinking water. Drinking as much as 2 to 3 quarts (1.8 to 3.6 liters) a day will keep your urine dilute and may prevent stones from forming. Unless your doctor tells you otherwise, drink enough fluid — ideally mostly water — to produce clear or nearly clear urine.
Pain relievers. Passing a small stone can cause some discomfort. To relieve mild pain, your doctor may recommend pain relievers such as ibuprofen (Advil, Motrin IB, others) or naproxen sodium (Aleve).
Medical therapy. Your doctor may give you a medication to help pass your kidney stone. This type of medication, known as an alpha blocker, relaxes the muscles in your ureter, helping you pass the kidney stone more quickly and with less pain. Examples of alpha blockers include tamsulosin (Flomax) and the drug combination dutasteride and tamsulosin (Jalyn).
Some kidney stones are as small as a grain of sand. Others are as large as a pebble. A few are as large as a golf ball! As a general rule, the larger the stone, the more noticeable are the symptoms.
The symptoms could be one or more of the following:
severe pain on either side of your lower back
more vague pain or stomach ache that doesn't go away
blood in the urine
nausea or vomiting
fever and chills
urine that smells bad or looks cloudy
The kidney stone starts to hurt when it causes irritation or blockage. This builds rapidly to extreme pain. In most cases, kidney stones pass without causing damage-but usually not without causing a lot of pain. Pain relievers may be the only treatment needed for small stones. Other treatment may be needed, especially for those stones that cause lasting symptoms or other complications. In severe cases, however, surgery may be required.
How to prevent kidney stones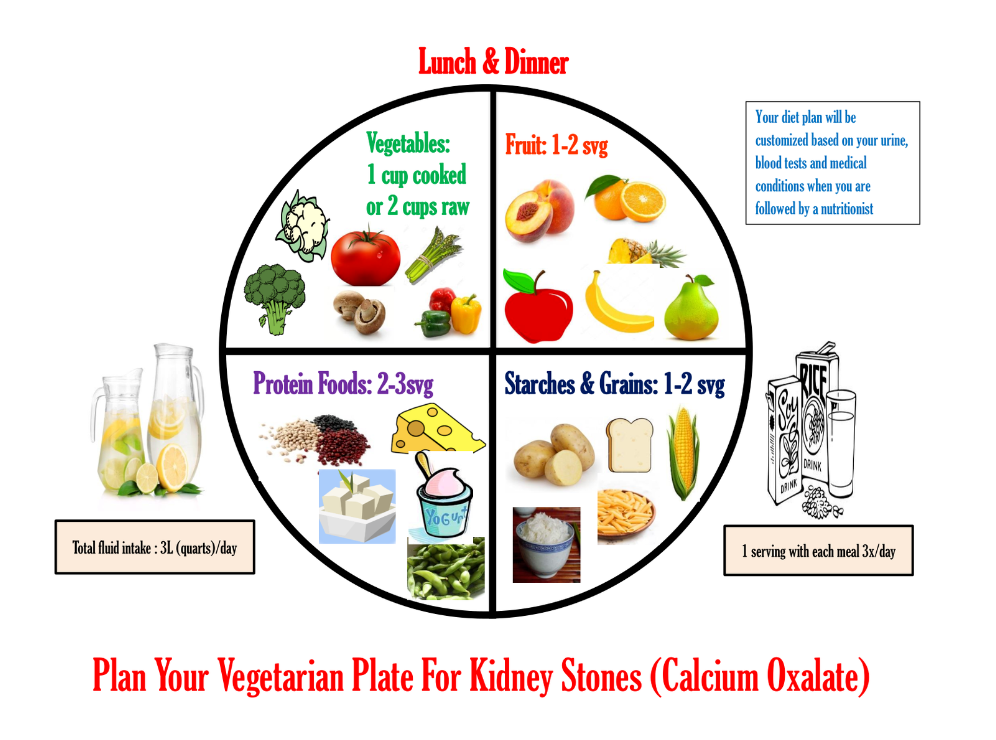 Proper hydration is a key preventive measure. It's recommended to drink enough fluid to pass at least 2.5 liters Trusted Source of urine each day. Increasing the amount of urine you pass helps flush the kidneys.
You can substitute ginger ale, lemon-lime soda, and fruit juice for water to help you increase your fluid intake. If the stones are related to low citrate levels, citrate juices could help prevent the formation of stones.
Eating oxalate-rich foods in moderation and reducing your intake of salt and animal proteins can also lower your risk of kidney stones.
Your doctor may prescribe medications to help prevent the formation of calcium and uric acid stones. If you've had a kidney stone or you're at risk for a kidney stone, speak with your doctor and discuss the best methods of prevention.
Foods that can cause kidney stones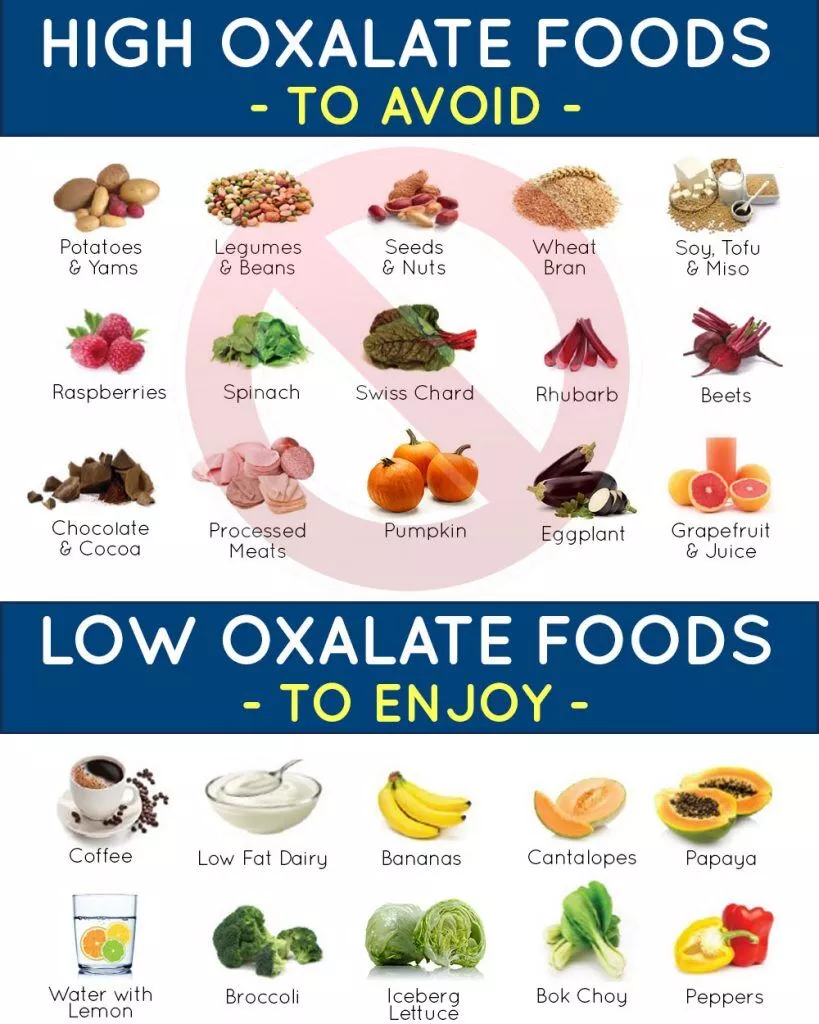 In addition to drinking more water, making modifications to your diet could also help prevent kidney stones.
Here are some foods that you may need to limit Trusted Source or avoid:
beef
chicken
pork
organ meats
fish
shellfish
eggs
milk
cheese
yogurt
processed meats
fast food
frozen meals
salty snacks
Animal proteins like meat, poultry, seafood, and dairy products can increase levels of uric acid in your urine and increase the risk of developing kidney stones.
Reference: healthline, kidney.org