Power must not be at gunpoint
"Power must not be at gunpoint"
Spring Revolution – Letpadaungtaung Region, Central Strike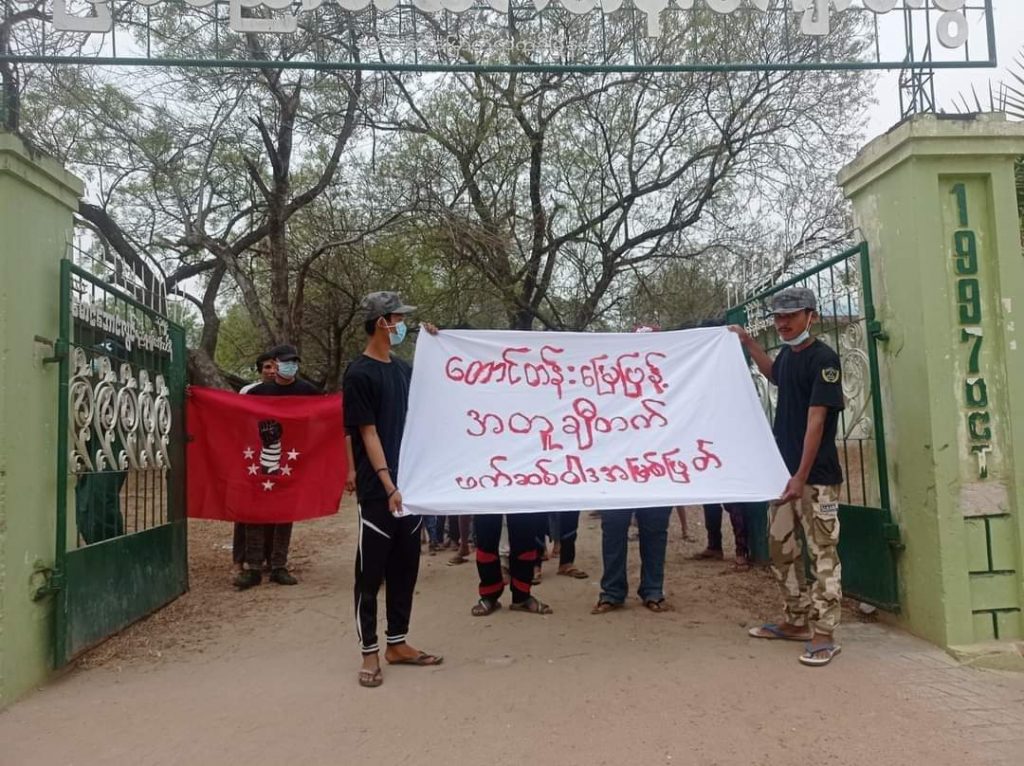 [What we are revolting against for …is that if the gun in hand in this country, can do whatever desire for. We are revolting these attitudes which claiming that if they are wearing uniforms, they can harass the people. Hey, terrorist militant…..You will never allow us to rule at all]
The Letpadaungtaung, Central Strike, which has been uninterruptedly battling day by day during our Spring People's Revolution, and today, reveals our desire in Salingyi.
By now, the military junta cut off internet lines in almost all townships in Sagaing Division, including Salingyi and Yinmarpin. Moreover, the Military regime deliberately massacred people like chickens and birds and set arson to entire villages which used to be intended purpose of area cleansing.
Despite in the face of all these calamities, our people will not be bloodthirsty but our revolutionary spirit and revolution will even stronger. Fighting against the military coup in this country, and as a revolutionary generation, we have to be the last generation, and we will have to revolutionize to the end.
I would like to urge the people of the whole country if while having peace in our home, should not think that the Revolution will succeed by itself and the military regime will be fallen. If we want to win the current people's revolution as soon as possible, all people should have to put in the effort as much as they can so as to contribute the revolution and cost to it.
If we push together, will move sooner, so that our people to achieve their desired victory which will come speedily. Perhaps ……"Freedom is not in vain" "Freedom is not free"
We must seize the great opportunity to build a "federal democratic union" that should be established after more than 75 years of country's independence and let us materialise it. Before we reach our desired destination and don't let our guard down, let's forge ahead together and don't let disunited. Lawfulness will definitely win over unlawfulness.
If you apathy, there is no leniency
All dictatorships must be inevitably fallen
A federal democratic union must be definitely established.
Revolution must be succeeded
28 March 2022