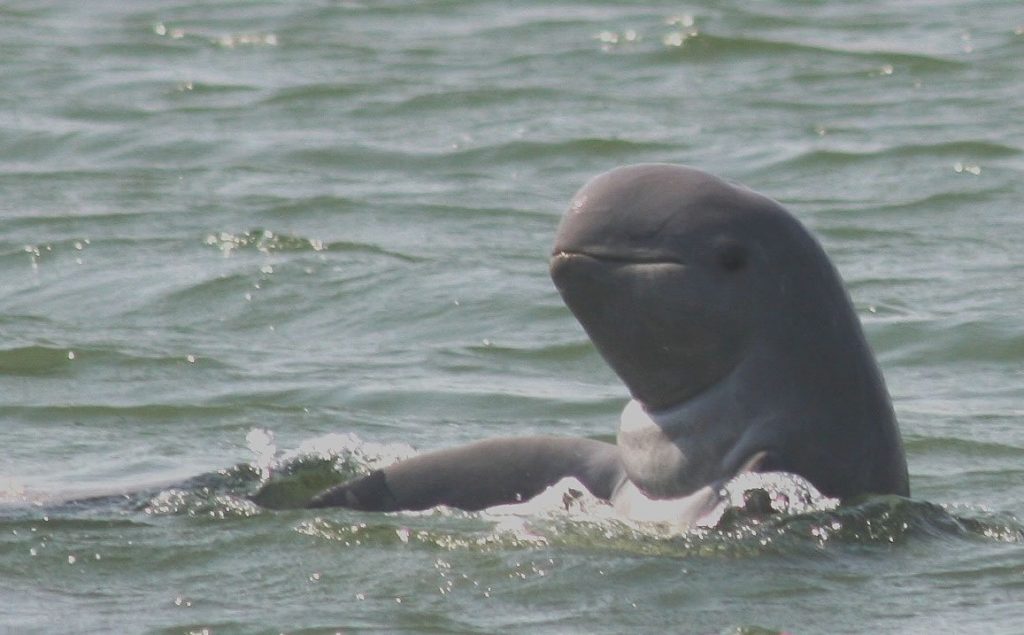 What is a fact about Irrawaddy dolphin?
​အောက်ဆုံးထိ ဆွဲကြည့်​​ပေးကြပါ ခင်ဗျာ
Irrawaddy dolphins look just like baby beluga whales, only with dorsal fins, but they are not closely related.
Irrawaddy dolphins are characterful and have unusually expressive faces. They can spit spouts of water from their mouths into the air. They seem to do this unusual behavior when socializing and fishing.
One of the earliest recorded descriptions of the Irrawaddy dolphin was by Sir Richard Owen in 1866 based on a specimen found in 1852, in the harbor of Visakhapatnam on the east coast of India. It is one of two species in its genus.
Other names: Mahakam River dolphin; Ayeyarwady River dolphin
What do Irrawaddy dolphins look like?
The Irrawaddy dolphin has an instantly recognizable, charismatic rounded face and head with no beak; they look like baby belugas, only with a dorsal fin. Irrawaddys have expressive faces thanks to their moveable lips and have creases around their necks as they are able to move their heads in all directions. They are grey all over but lighter on the belly. The dorsal fin is small; their flippers are long and large, with curved leading edges and rounded tips, their tails are also large.
What's life like for an Irrawaddy dolphin?
Irrawaddy dolphins are found in small groups of six or fewer, but up to 25 have been known to gather in deep pools to fish. They are slow swimmers and avoid boats; they do not bow-ride, and generally dive when frightened. They sometimes spyhop, tail slap, body rub, or roll to one side while waving a flipper, and they only occasionally leap. Irrawaddys can spit spouts of water at the surface and we think this might make it easier for help them to catch fish by confusing them.
It is not known what the total population of Irrawaddy dolphins is though they are endangered throughout their range.
What do Irrawaddy dolphins eat?
Irrawaddy dolphins are not fussy eaters and eat any type of fish that are available in their habitat. This includes prey found on the bottom as from time to time, the dolphins surface with mud on their heads or backs. Marine Irrawaddys also eat squid and octopus and seem to follow tides, moving inshore and into river mouths with high tides, and further offshore as the tides go out, probably following the movements of their prey.
Irrawaddy dolphins, Orcaella brevirostris, feed on fishes, crustaceans, cephalopods, and fish eggs. Two species of cyprinid fish, Cirrihinus siamensis and Paralaubuca typus, are thought to be important food sources for Irrawaddy dolphins found in northeastern Cambodia and Laos.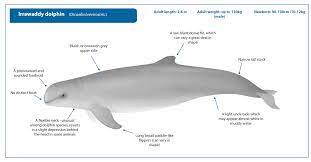 Where do Irrawaddy dolphins?
Irrawaddy dolphin populations live in varied habitats including both coastal marine and freshwater tropical environments in Southeast Asia, Indonesia and the Bay of Bengal. There are five isolated freshwater Irrawaddy dolphin populations: in Myanmar they live in the Ayeyarwady River (also known as the Irrawaddy River); in Borneo, they live in the Mahakam River; in Cambodia and Lao PDR they live in the Mekong River; in India they live in Chilka Lake; and in Thailand they live in Songkhla Lake. Marine Irrawaddy dolphin populations are found in patches as they prefer to live in sheltered coastal waters where freshwater is flowing in, such as river deltas, mangrove channels, and estuaries. Irrawaddys stick to shallow water and are never found more than a few miles from shore.
How long does a Irrawaddy dolphin live?
The life span of Irrawaddy dolphin is estimated to be 30 to 50 years. The species generally occurs in small groups of 2-7 individuals, but sometimes may travel in groups as large as 14. Similar to bats and other dolphins, the Irrawaddy dolphin uses echolocation to find fish, navigate and interact with each other.
What color is the Irrawaddy dolphin?
Irrawaddy dolphins, Orcaella brevirostris (Owen in Gray, 1866), aka Mekong or Mahakam River dolphin, reach 2-2.75 m in length. The color of Irrawaddy dolphins is dark blue to dark gray ranging to pale gray, with a pale ventral (under) side. They have a high rounded forehead and no beak.