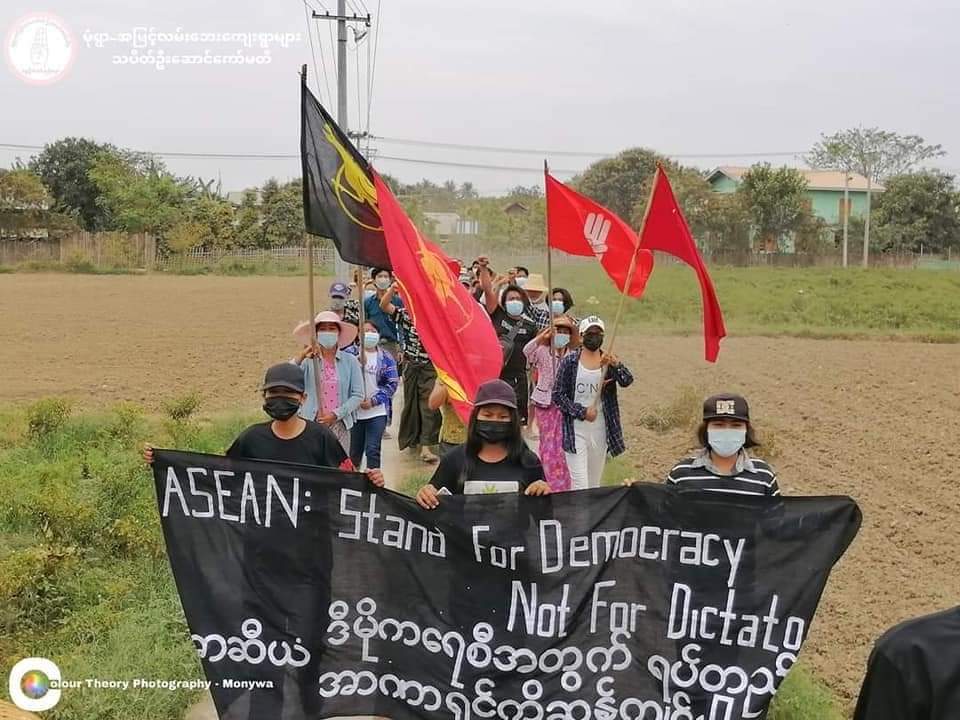 Monywa-Amyint Road Strike Steering Committee
"ASEAN, Stand up for democracy" "Oppose the dictator"
Today, the villagers of Monywa-Amyint Road went on strike with the above slogan.
The terrorist military regime is not a government that represents our people at all and they are just coup d'etat. If ASEAN wants to intervene for justice in Burma, I respect that willingness indeed. If it is so, imperative for ASEAN to unambiguously establish the connection with NUG, NUCC or CRPH which certainly representing our people.
We strongly condemn the visit of the ASEAN Special Envoy (Cambodian Foreign Minister) to Burma, appointed by Cambodian Prime Minister Hun Sen for significantly biased towards the military regime and not recognising these organisations who are representing our people. ASEAN needs to stand with democracy and we demand that the will of the people of Myanmar should be respected. Otherwise, Asean will become an organisation who support the longevity of dictators.
Those who not involve in and stand for neither side, the dictatorship has now slammed their door hard. Isn't it awake?
I do not want to be long winded. Electricity outage situation affecting our daily socio-economic life; internet connection availability and data rates; surge of fuel price; rising General Commodity; let's compare the social security situation before and after the coup d'etat.
Friends;
I just want to urge you to choose and participate mentally and physically in the battle between lawfulness and unlawfulness. With you, the revolution will make good progress on a journey and will reach winning post quickly.
Public movement; People revolution need to be strong and vigorous. We need to up keep our movements clamorous. The flag must not be unflown.
Until we reach our goal, we will not be complacent. don't let our guard down, don't let disunited and don't let divided. We will fight to the end.
If you apathy, there is no leniency
All dictatorships must be inevitably fallen
A federal democratic union must be definitely established.
Revolution must be succeeded
Photo credit to Original Sources
22 March 2022